My concert experience.....page 2&nbsp&nbsp(cont.) [ 1| 2| 3| 4| 5| 6| 7]
---
I pulled into Pontiac a few hours early and started looking for the venue, reading the street directions listed for the club off a piece of paper. I rode around...found the streets named....and kept circling.... and circling....and circling
"Where the hell is this place?", I think to myself, glad that I arrived early. Panic begins to set in as I travel over the same roads mentioned, but no sight of the venue. I stop on a street to get my bearings, read the somewhat sketchy directions again, and once more, follow the streets named.
The hundreth times a charm I guess.
I finally see a small sign...obscured by a tree....
"Is that it?"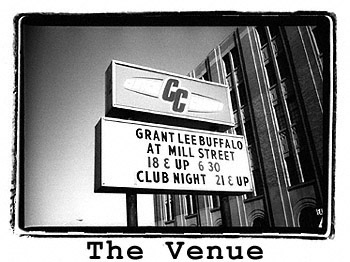 Whew! Found it.

Clutch Cargos.

[Previous page]&nbsp&nbsp[Main]&nbsp&nbsp[Next page]